"ESTHER"
(To watch scenes from "ESTHER", click BELOW!)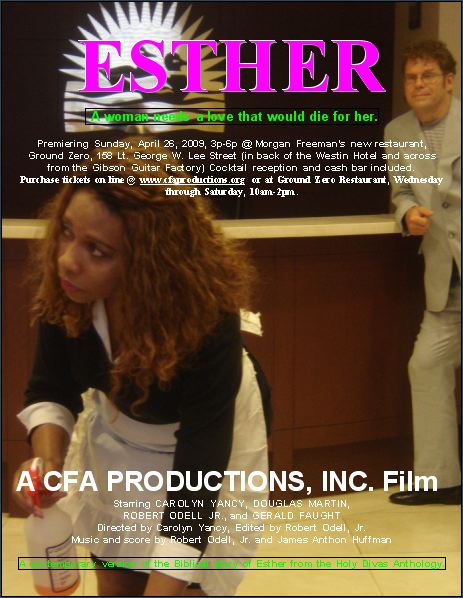 With the logo: "A WOMAN NEEDS A LOVE THAT WOULD DIE FOR HER!", "ESTHER " is CFA Productions' 4th feature length film.
Adapted from the Biblical account of the Book of Esther, our movie is a contemporary version of the Biblical saga.
Set in the 21st century, "ESTHER" tells the story of a strong woman who overcomes formidable odds to avert the mass murder of a people; and, as a result, becomes involved in an interracial romance with a wealthy CEO.
"ESTHER" stars some of CFA Productions' finest talent: Douglas Martin, as Alexander Hausman; Gerald Faught, as Haman Aguard; Christy Hamilton, as Zeresh Aguard; Robert Odell, Jr.; as Mordecai Hamlin, Carolyn Yancy, as Esther; as well as a host of other great CFA Productions' actors.
"ESTHER" has been sent to BET for consideration in their Lens on Talent contest!
To view a Trailer of "ESTHER", click here!
***To view a romantic Dinner Scene from the movie, "ESTHER", click here!


| AUDITIONS |

---
| Return Home | TALENT AGENCY | What's New | SERVICES | REGISTRATION | Contact Us | COURSES | DONATE | MOVIE-TMBTB | MOVIE-ESTHER | CHURCH | BIO OF CAROLYN YANCY-GUNN |